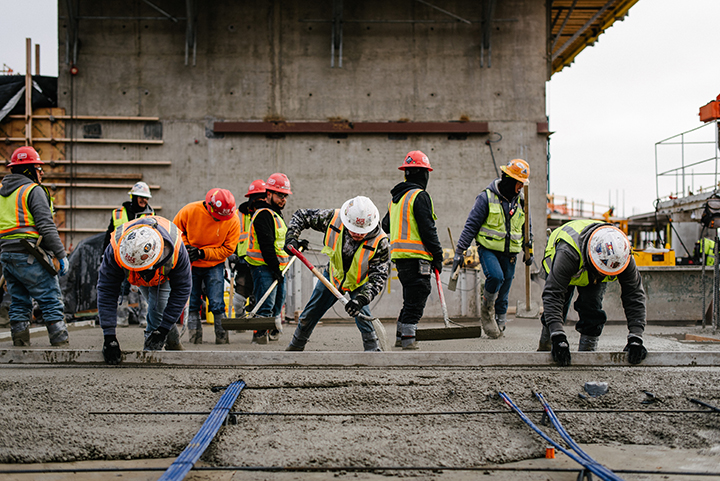 Hensel Phelps recognizes craft workers play one of the most significant roles in the successful completion of every project. Hensel Phelps' former president and founder's son, Joseph Phelps, stated it best, "It's our people that make the difference."
Craft workers, the Industrial Athletes, demonstrate unimaginable feats of strength and courage each day, and are truly one-of-a-kind. The Industrial Athletes are the backbone of the construction industry.
So, what is an Industrial Athlete?
The 5:00 AM crew. Up before the sun. The first ones on the jobsite and often, the very last ones to leave.
Specializing in concrete formwork, concrete place and finish, curb and gutter, doors and hardware installation, flatwork place and finish, heavy equipment operations, hoisting operations, jobsite cleaning, metal panel installation, rough carpentry, site hardscapes, temporary heating and cooling, wood and cabinet detailing and snow removal—Hensel Phelps craft have done it all.
What first started as a vision by Hensel Phelps superintendent, Jeremy Spooner, has expanded into a required training for all the Plains District craft. Hensel Phelps, in conjunction with Trivent Safety Consulting, a construction safety consulting firm based in Westminster, Colorado, acknowledged the importance of raising awareness on four main topics that directly impact the lifestyle and well-being of craft workers: Nutrition, Stretching and Strengthening, Ergonomics and Behavioral Safety.
And thus, the Industrial Athlete Program was born.
Led by Trivent Safety Consulting, the four-part interactive in-person trainings encourage the craft to not only understand how to take better care of their mental, physical and emotional well-being, but also empowers them with the tools to recognize potential warning signs in themselves or fellow coworkers who may be struggling. It is everyone's job to make sure they all go home safely at the end of each day.
"We wanted to come up with a wellness program that was impactful for our craft, but also spoke to them, and acknowledged them as the athletes that they are, and not only athletes, but professional athletes working for Hensel Phelps," said Project Superintendent Jeremy Spooner. "We wanted to embrace and acknowledge that and provide tools to help them. From the nutrition choices, to how they prepare their bodies, to how they approach their work from an ergonomic standpoint. All those things play a role in their successes and in their lives every day."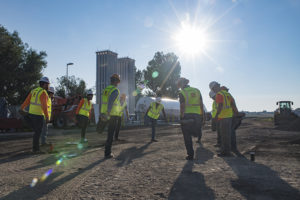 As a growing industry standard, several Hensel Phelps construction projects across the nation now start their day with a stretching routine to warm up everyone's bodies for the day's activities. And the craft have begun noticing positive effects from the small habits they changed with their nutrition and exercise. Foreman Dakota Gallegos remarked, "It brought awareness to a lot of us, at least, to how you are using your body and what you put into your body is what you'll get out and how those choices can affect you long-term."

The hope is that more firms in the construction industry will recognize the importance of educating their craft workers on positive ways to impact their livelihood and enable them to continue to build for many years to come.