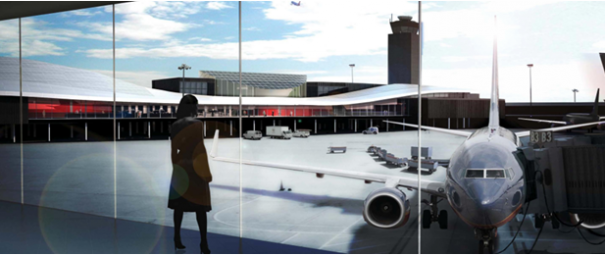 Hensel Phelps was awarded a construction contract from the Maryland Aviation Administration (MAA) for the new B/C Concourse Connector and Security Checkpoint at BWI-Thurgood Marshall Airport, Baltimore, MD. The project consists of a new nine (9) lane passenger security checkpoint and airside passenger connector between Concourses B and C at BWI Marshall Airport. The work includes approximately 60,000 SF of new building construction on two levels and the renovation of approximately 115,000 SF within the existing terminal. Specific elements include four moving walkways and two freight elevators; integration of new mechanical, plumbing, electrical, tele/data and security systems; and pavement reconstruction with two new loading docks – all immediately adjacent to active airside and landside zones.
Scheduled for completion in spring 2013, the project features an aggressive 11-month construction schedule and extensive logistical considerations to complete work without impact to critical airport operations and security.
The B/C Concourse Connector and Security Checkpoint project continues Hensel Phelps' successful partnership with MAA at BWI-Thurgood Marshall Airport, including the construction and early delivery of the 550,000 SF Terminal A/B Expansion project.