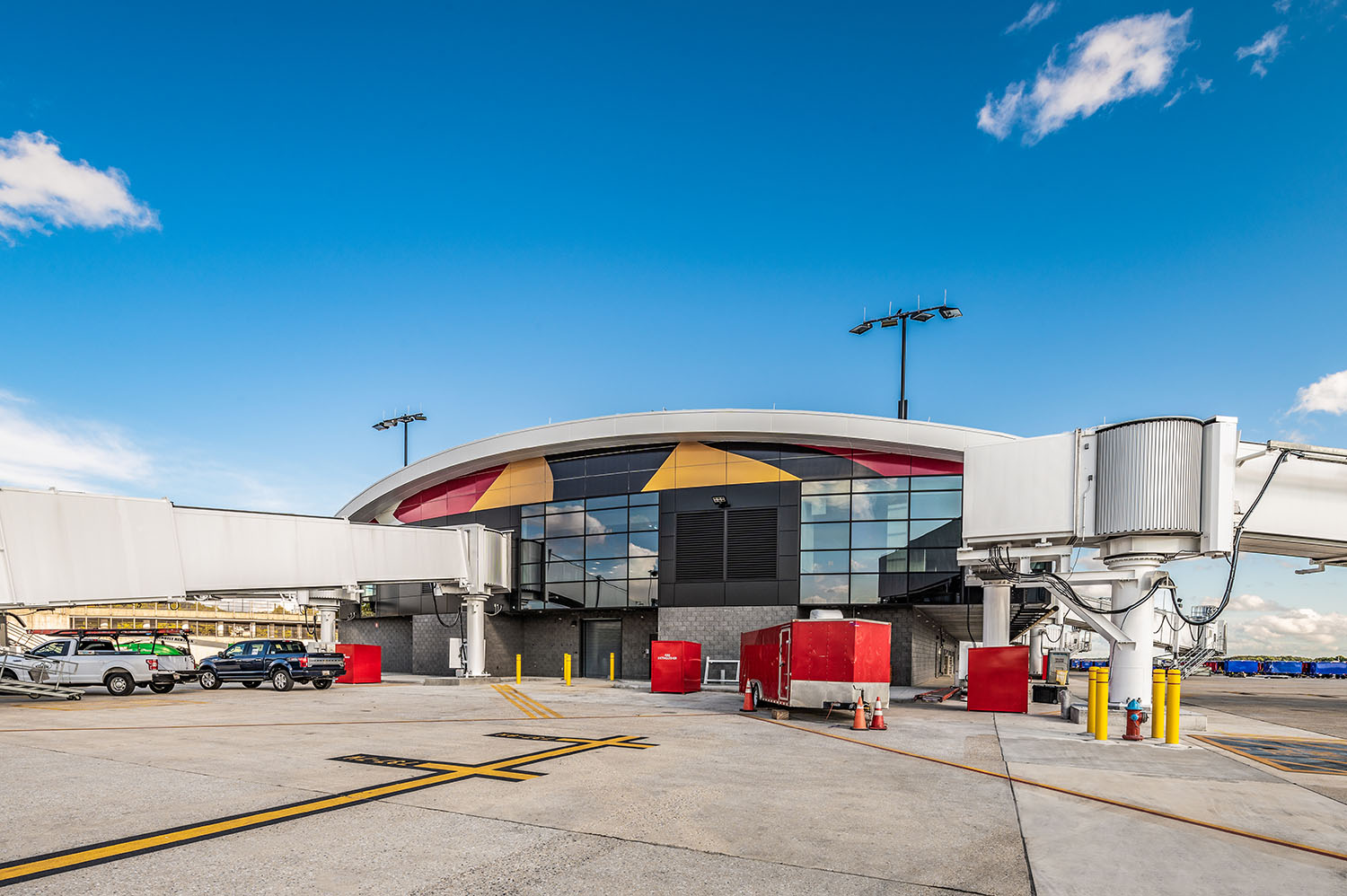 Hensel Phelps and the Maryland Aviation Administration (MAA) are celebrating completion of the new Concourse A Five Gate Extension at Baltimore Washington International Airport (BWI). Completed in 16 months, the new gates support MAA's continued growth and expansion.
The design of the expansion mimics the existing Concourse A that was completed by Hensel Phelps in 2006 and features a new Apron Level and Departures Level. The 24,000 SF Apron Level includes support spaces such as a mechanical room, electrical and communication rooms and custodial storage rooms. In addition, there is space for concession storage to support the concessions on the Departures Level and additional space to be occupied by Southwest Airlines. The 31,000 SF Departures Level includes five new gates sized to accommodate Boeing 737 MAX8 aircrafts. The level features 5,000 SF of new food and beverage and retail concessions and new state of the art men's and women's restrooms.
The restrooms have been updated to a new standard that will serve as template for planned bathroom renovations across the rest of the airport and combine some of the best design aspects from restrooms around the country and the world. These design aspects include independent restroom stalls with independent HVAC; niches for bag and wardrobe bags; full-height FRP doors; intelligent restroom systems including indicator lights over the stall that come on when the lock is engaged, tracking of time between cleanings and when cleaners are actively cleaning the bathrooms; and high-end bathroom finishes.
Southwest Airlines and MAA operations continued throughout construction, necessitating close coordination during operations such as fuel line modifications, trench drain work and tying into existing utilities. In addition, Hensel Phelps coordinated with concessionaire tenants and airport operations to eliminate unplanned operational impacts.
Since 2006, Hensel Phelps has partnered with MAA on three large capital construction projects with a total value of over $266 million. Hensel Phelps has completed almost $20 billion in aviation projects to date and has been ranked the top aviation contractor in the US by Engineering News Record since 2016. Hensel Phelps is proud to deliver another successful project to the MAA.