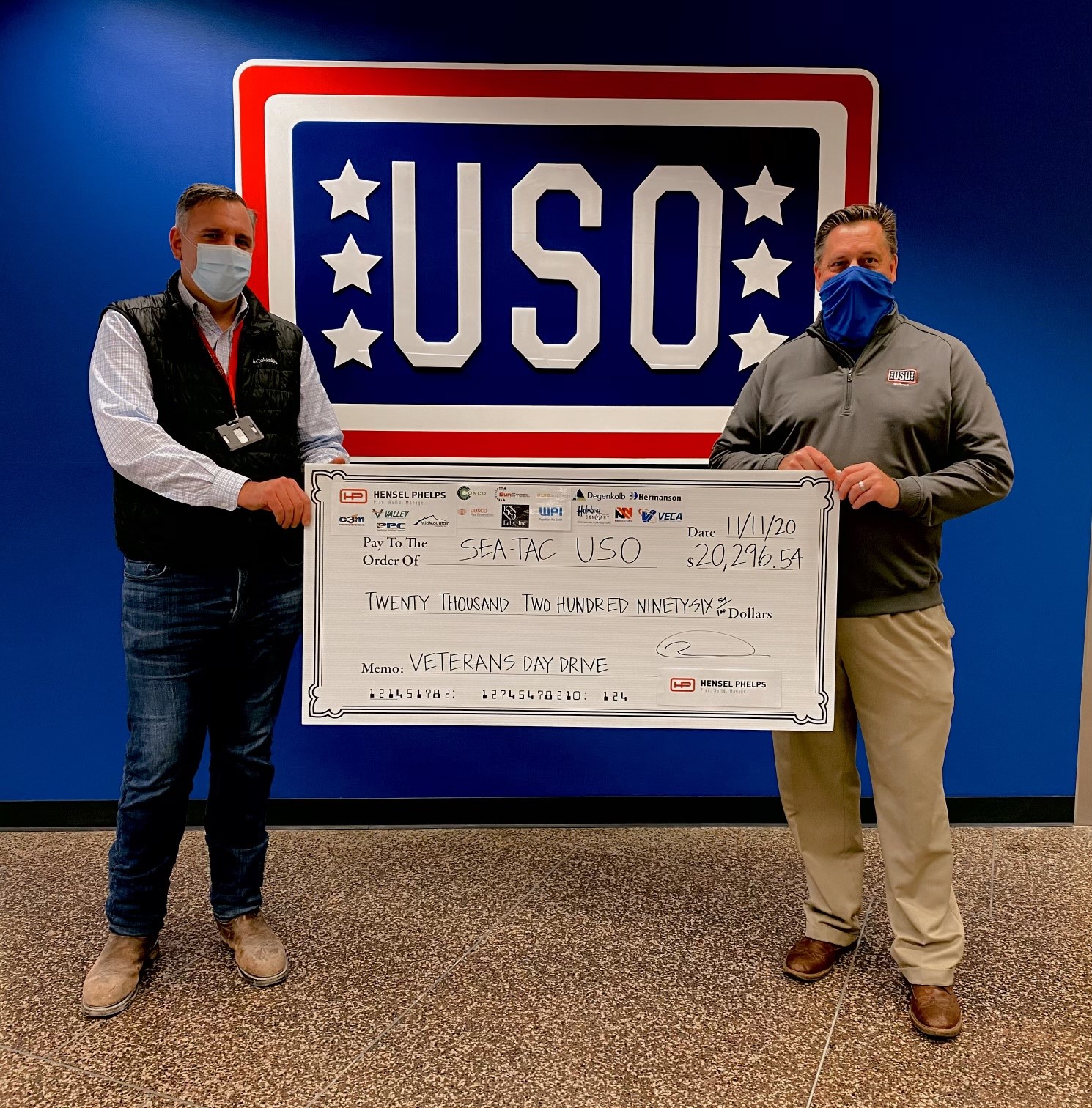 Hensel Phelps is proud to support the Nation's Active-Duty Service Members and Veterans. In honor of Veterans Day, the Pacific Northwest team facilitated a Veterans Day Fundraising Drive and Raffle to raise money for the Sea-Tac USO. Raffle prizes were generously donated by Ethan Stowell Restaurants, DeWalt, the Archer Hotel, Masco Masons Supply and HD Supply. Through a combination of employee and industry partner contributions, the team raised over $20,000 to ensure this welcoming place can continue to support military members and their families through COVID-19 and beyond.
About the Sea-Tac USO
The Sea-Tac USO is one of the busiest in the country and is visited by over 150,000 military members and their families each year. Supported by over 200 volunteers, it offers home-like amenities all free of charge to military members and their families. Unfortunately, the COVID-19 pandemic has devastated the Sea-Tac USO's ability to raise money through golf tournaments and other events.
Hensel Phelps' Pacific Northwest team is honored to support the Sea-Tac USO's vital mission. Learn more about the Sea-Tac USO: https://northwest.uso.org/sea-tac
Thank You to Our Industry Partners for Their Generous Donations:
Archer Hotel
BLRB Architects
C3M Power Systems
The Conco Companies
Cosco Fire Protection
Crown Corr
Degenkolb Engineers
Dewalt
Ethan Stowell Restaurants
HD Supply
Hermanson
Holmberg Mechanical
KKO Labs
Masco Masons Supply
Mid-Mountain Contractors
Northwest Partitions
Stacy and Witbeck
SunSteel
Valley Electric
VECA Electric & Technologies
Western Partitions