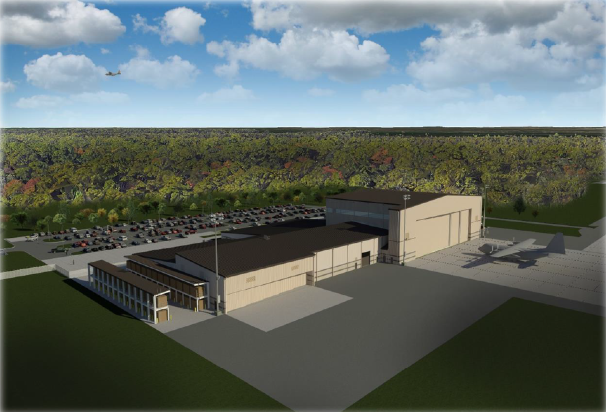 The United States Army Corps of Engineers awarded Hensel Phelps the $66 million SOF Aircraft Maintenance Unit (AMU) and Weapons Hangar Facility at Hurlburt Field in the Florida panhandle. Construction includes a new 105,041 SF maintenance hangar, aircraft maintenance unit with shops and a weapons shop with reinforced concrete foundation and floor slab, steel structure, masonry walls and standing seam metal roof, environmental control (HVAC), fire detection and protection and mass notification system. Supporting facilities also include utilities, pavements, site improvements, communications and all necessary support, making a complete and usable facility.
Additional scope will include roadway and parking, associated primary utilities/communications and realignment of existing utilities as required. The team will provide airfield pavements with access to the hangar. Lastly, special site conditions require excavation, fill and stabilization, and the demolition of seven existing buildings.
The project kicks off on April 19, 2021 and is scheduled to complete on October 13, 2023.