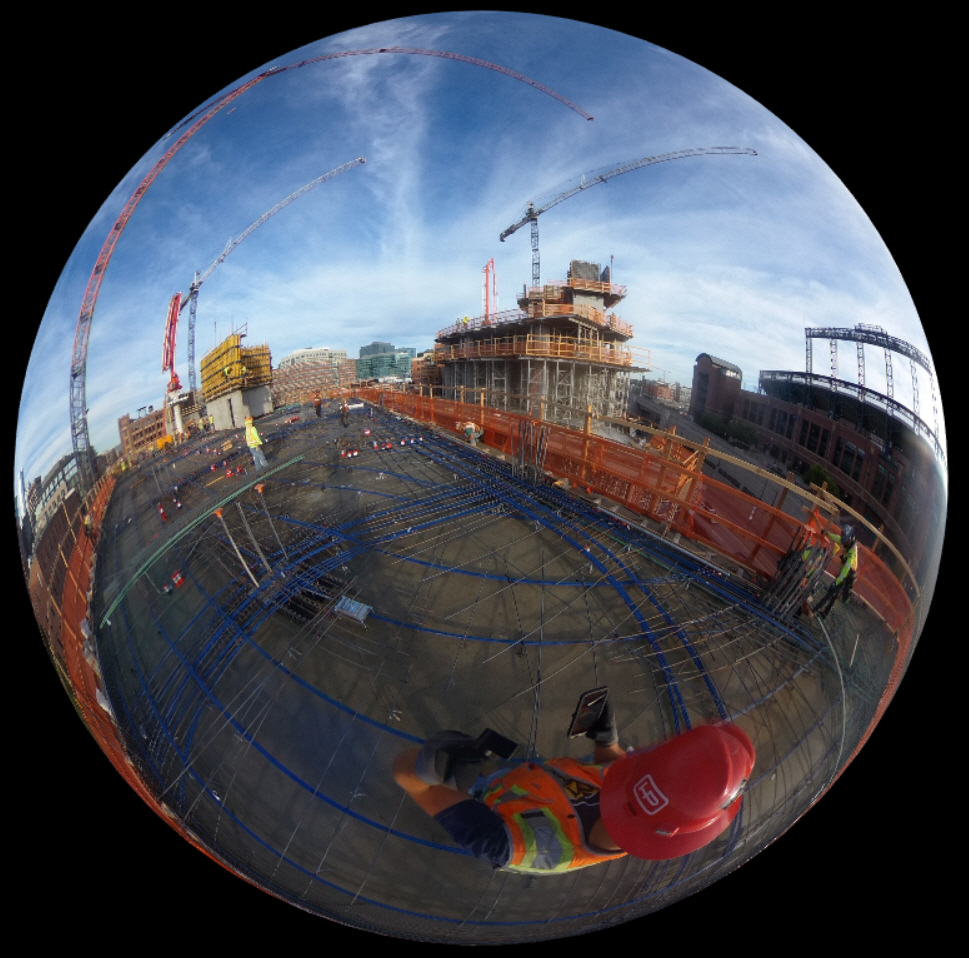 As an industry leader in the application of Virtual Design and Construction (VDC) technologies, Hensel Phelps continues to advance the use of VDC to improve the process of design and construction from project beginning to end through the implementation of technologies such as 360 Photogrammetry Plans, integrating drone use into safety plans, and applying drones to verify topographic design. Below is an in-depth look into how Hensel Phelps utilizes these three up-and-coming technologies throughout their construction sites.
360 Photogrammetry Plan
At the ongoing $225M McGregor Square project located in Denver, CO, Hensel Phelps is using 360 cameras to document job site progress. To date, 2,334 photos have been taken and it will likely be somewhere around 10,000 when the project is finished. Hensel Phelps is unique in their application of these 360 cameras because they use the drawings to plan the location of each camera throughout the buildings to document a total of six milestones throughout the duration of the project. These milestones range from concrete placement to final punch.
Hensel Phelps is starting to implement this 360 Photogrammetry Plan on all projects, having learned from recent project experience that they need additional documentation to capture data for future references. This type of camera is easier to use than past photogrammetry software because images can be exported at the end of each day to a document management software, meaning it can be both archived for years to come as well as easily provided to the owner when requested. It is also more affordable. Multiple cameras can be used on a single job site, and it is a faster, more user-friendly camera so that field staff are able to use it with only minimal assistance from the VDC group. Hensel Phelps is currently experimenting with attaching the 360 camera onto the drone as it flies the site, in order to take more comprehensive images that view the site from an aerial view.
Integrating Drones into Hensel Phelps' Safety Plan
Having just recently been granted a waiver from the FAA to fly drones over active job sites (the first company in the US to receive this waiver), Hensel Phelps has started an initiative to integrate drone footage into their comprehensive safety management system. Hensel Phelps' Plains District has started employing drones to monitor large-scale activities that require large numbers of workers onsite, such as pouring concrete. Safety Managers will review the captured documentation, ensuring that everyone onsite is working in an appropriately safe manner and, where needed, remedy any behavior that does not meet Hensel Phelps' standards. This is particularly useful during the early stages of a project because any unsafe habits can be caught early on, preventing the chance of repeating these unsafe habits as the building rises from floor to floor, and thereby reducing the overall project risk.
Using Drones to Verify Topographic Design
Hensel Phelps has started to use drone imagery for comparing topographic contour drawings provided by the owner to the elevations captured by the drone when flying the actual site. This is used for Quality Control purposes and helps the project team to detect possible discrepancies between the drawings and the site. The information gained from this comparison is then used to update the project budget and scope and is also supplied to the owner as aerial data.
As these technologies continue to advance, Hensel Phelps looks forward to growing and fine-tuning their application of VDC and continuing to standardize these practices so they may be employed as part of Hensel Phelps' regular building processes and overall culture of the company. To learn more about VDC at Hensel Phelps, please visit: https://www.henselphelps.com/the-hensel-phelps-way/technology/vdc/