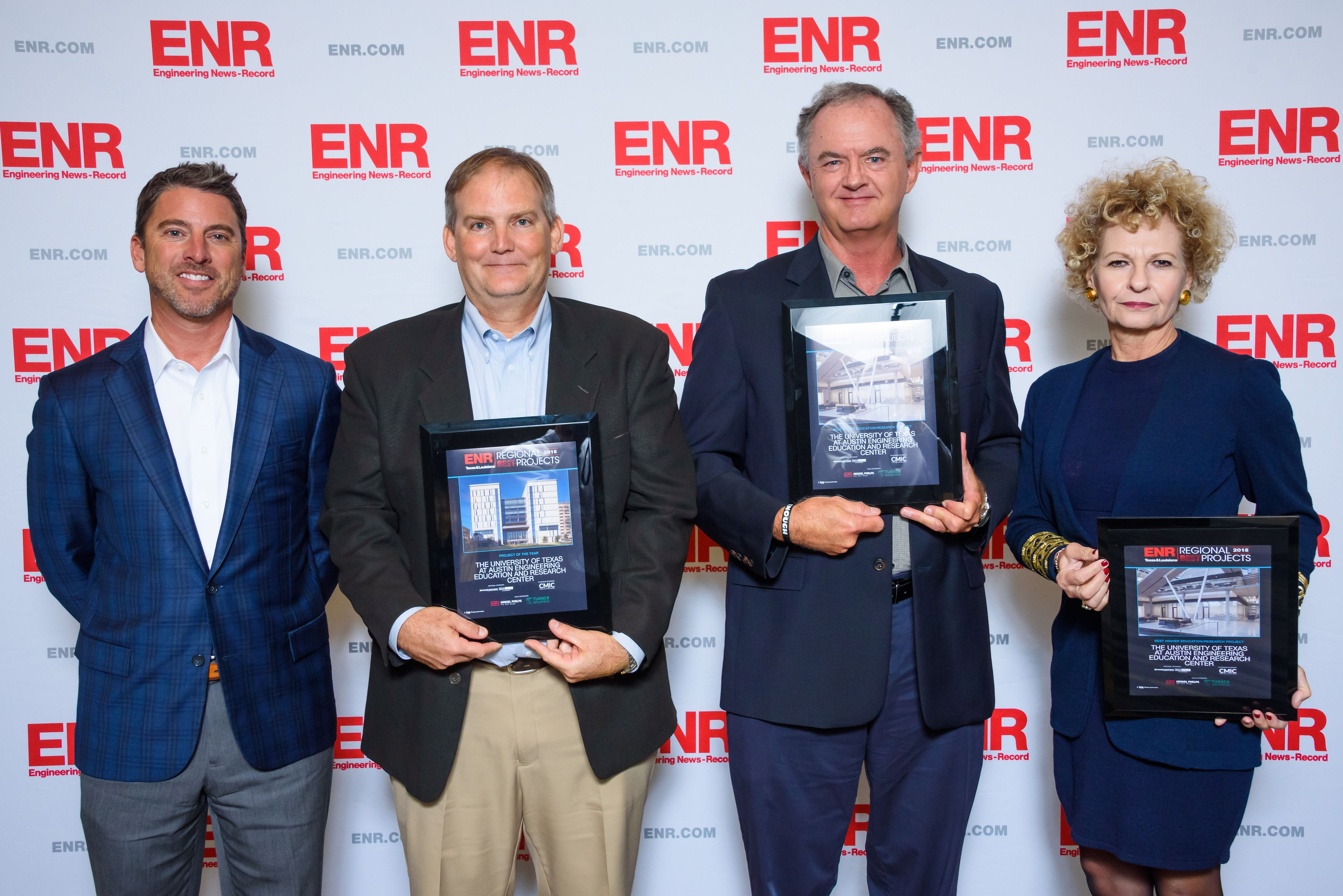 We are proud to announce that Engineering News-Record (ENR) magazine recently awarded the Best Project of the Year 2018 for the Texas – Louisiana Region to Hensel Phelps for The University of Texas at Austin Engineering Education and Research Center (EERC). The 430,000 SF project, featuring two 10-story towers surrounding a daylit glass atrium, houses the Electrical and Computer Engineering Departments for the University of Texas' Cockrell School of Engineering.
The EERC is a sprawling project, whose design involved a vast array of user groups. It required complicated modifications to the campus and complex make-ready work, including phased swing space, major demolition, as well as extensive fundraising. The sheer complexity of the project was the biggest challenge and would not have been successful without an integrated, open, and collaborative design process that included a carefully constructed "road map" at the outset.
The EERC project has many examples of superior construction quality and exemplary craftsmanship. There is a large amount of exposed concrete throughout the atrium and connecting fire stairs. The fire egress stairs provide lateral resistance for the project, so shear walls needed to be placed in three unique places verses one in a traditional stair core. This created several challenges and the final prime condition of these stair walls is due to the craftsmanship and skill of the workforce.
The building's façade balances traditional campus requirements with contemporary style. Each façade is unique and balances interior space needs with desired exterior aesthetics. The design masterfully used limestone, brick, zinc, stainless steel and glass to create this balance. The design was implemented with exquisite quality and craftsmanship to create a truly remarkable building.
None of the amazing feats performed in order to complete this project were at the expense of the safety of our staff or subcontractors. Hensel Phelps finished the project with an RIR of .25 (Nat. Avg. 3.10), DART of .12 (Nat. Avg. 1.80) and zero lost time accidents over the course of 2.4 million man-hours worked.
Check out additional project statistics: https://www.henselphelps.com/project/ut-austin-engineering-education-and-research-center/