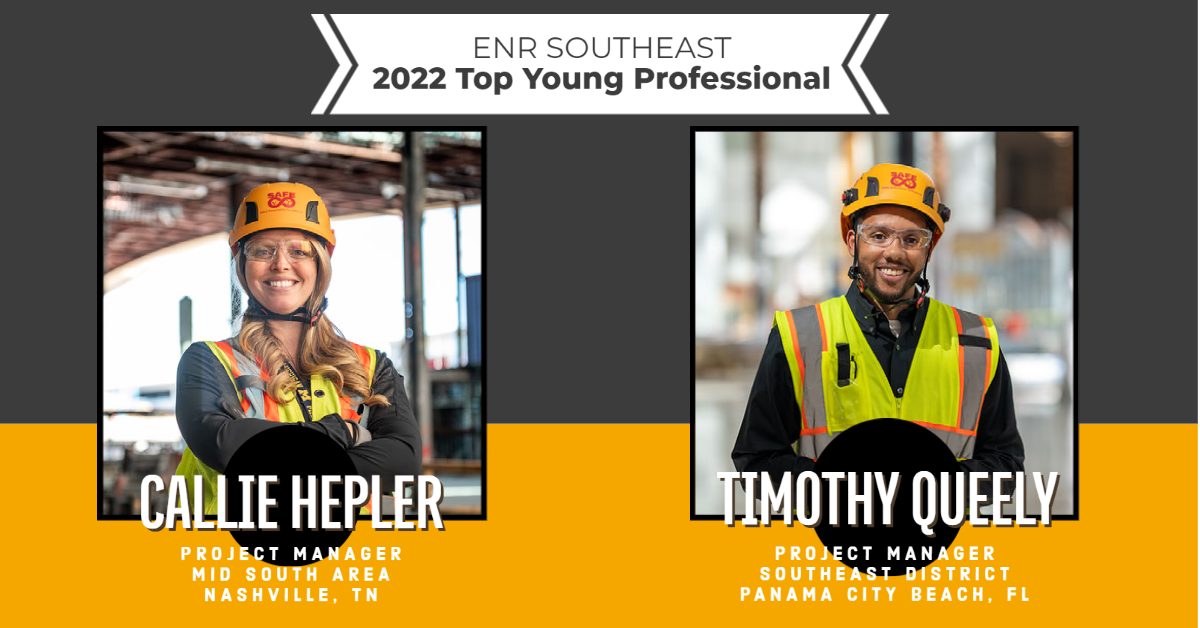 This week, Hensel Phelps' Project Mangers Callie Hepler and Timothy Queely were recognized by Engineering News Record (ENR) Southeast as 2022 Top Young Professionals!
The selection of these outstanding young leaders in the construction industry came from over 90 applicants from across the Southeastern United States. A brand-new panel of judges reviewed the top scoring candidates to pick the Top 20 List that represents leadership skills, community service and diversity in the construction industry.
Callie Hepler, project manager, graduated from the University of Michigan in 2010 with a Bachelor's Degree in Civil Engineering. Soon after, she joined Hensel Phelps in their Southern California District. Over her 12-year career, Callie has led numerous projects in the hospitality, federal and aviation markets. She is currently leading the Nashville International Airport Terminal Lobby and International Arrivals Facility in Nashville, TN.
As a woman in the construction industry with $1.3 billion in project experience, Callie has paved the way for many females to rise in the ranks and realize their career potential. She supports creating employee networks that further diversity and inclusion in the industry by leading Hensel Phelps' Women's Seminars and the Southeast District Diversity Equity Inclusion Community (DEIc) committee. Callie maintains her work commitments by counterbalancing her personal life as a dedicated wife and mother to three children.
Timothy Queely, project manager, joined Hensel Phelps after graduating from Florida A&M University with his Bachelor's Degree in Construction Engineering Technology in 2007. In 2016, Timothy was promoted to project manager and oversaw numerous projects out of Hensel Phelps' area office in Fort Lauderdale, FL. He is currently heading-up the Zone 1 F-35 Flightline Facilities at Tyndall Air Force Base, FL.
Throughout his tenure with Hensel Phelps, Timothy has relocated over 10 times within the continental United States when reassigned to a new project. He takes this challenge head-on, fostering a team environment with each new staff while encouraging his wife and two children to embrace the opportunity of adventure. Through his experience, Timothy provides insight and helpful tools such as financial tracking and checklists he developed himself with other employees who are relocated.
ENR Southeast will spotlight the winners in ENR Southeast's January 2023 edition, highlighting the incredible careers these individuals have accomplished–earning them this unique recognition.