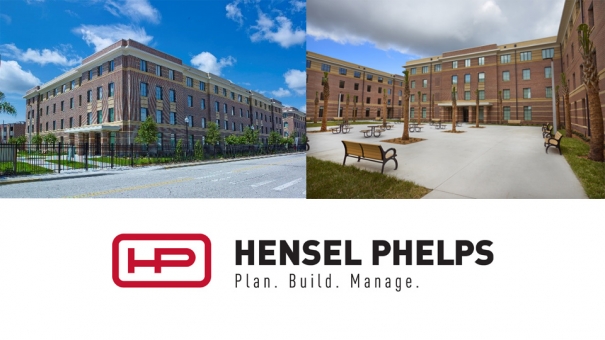 Hensel Phelps has officially completed the construction of four new residence halls for Quantum Equity One LLC at Bethune-Cookman University in Daytona Beach, Florida. The four brand-new residence halls provide an additional 1,204 beds for students.
The design and construction of this project was a collaborative effort between Hensel Phelps' Development Group and Construction Group. Hensel Phelps Services Group has recently signed a contract with Bethune-Cookman to provide post-occupancy services to the university, thus integrating a total project solution for this landmark project.
The project was completed in two separate phases. Phase 1 consisted of two new buildings totaling 154,580 SF, providing 658 beds; while Phase 2 consisted of two buildings totaling 133,116 SF, providing an additional 546 beds. Hensel Phelps completed Phase 1 in 14 months and Phase 2 in 19 months.
The residence halls were designed around a new overall campus master plan for Bethune-Cookman University. The approach was to provide a comfortable atmosphere for students that encouraged academic enrichment. Each residence hall was designed and built to offer amenities that focus on each student's needs. These amenities include a fitness center, laundry facilities on each floor, computer labs, a mixed-use interior courtyard, student lounges, and study rooms.
The brand-new residence halls have been turned over to Bethune-Cookman University and were used by students starting during the 2016 spring semester.