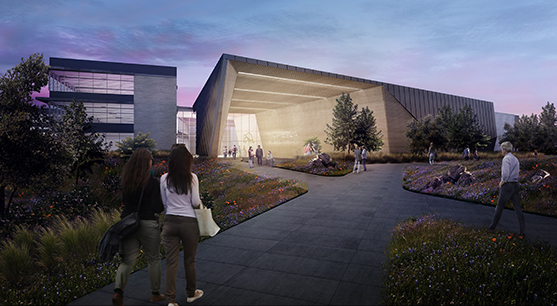 The Department of General Services (DGS) has awarded the new Southern California Consolidation project for the California Air Resources Board (CARB) to the design-build team of Hensel Phelps, ZGF, and Affiliated Engineers, Inc. (AEI). The $368 million, 380,000-SF, 19-acre project will be located in Riverside near the University of California, Riverside campus. The new facility will be one of the largest and most advanced vehicle emissions testing and research facilities in the world. It will also be the largest true zero net energy facility of its type in the world — producing much more energy than it uses.
This new facility will consolidate the organization's five existing locations, currently spread throughout Los Angeles, into a single location that will house more than 400 employees. The state-of-the-art facility will include an extended range of dedicated test cells, especially for testing of heavy-duty vehicles, an advanced chemistry laboratory, workspace for accommodating new test methods for future generations of vehicles, space for developing enhanced onboard diagnostics and portable emissions measurement systems, visitor reception and education areas, a media center, flexible conference areas, and a large public auditorium.
"Hensel Phelps is excited for the opportunity to partner with both DGS and CARB to help realize this new, one-of-a-kind Southern California facility. It will provide a sustainable, zero net energy home for CARB that enhances the experience of their employees and surrounding community for years to come," according to Chris Chacon, Hensel Phelps director of operations.
The facility and campus will be designed and built to reach the highest possible levels of measured sustainability, with the intention to achieve LEED Platinum certification from the U.S. Green Building Council, and will also meet California's CALGreen Tier 2 threshold for overall sustainability and energy efficiency.
"Our core values are based on making a difference by enhancing the places people work and live, while creating a more sustainable built environment," said Ted Hyman, managing partner at ZGF. "It is an honor to work with CARB, an organization that shares our commitment to the environment by improving air quality not only in California but by example, for the entire world."
The unique design will provide a seamless consolidation and integration of the office program into a three-story, pinwheel-shaped building that will offer vertical connectivity to increase proximity between offices and horizontal connectivity with testing areas, support space, and laboratories, resulting in greater flexibility and interaction. This pinwheel concept creates a Central Command Control area that forms the nexus of the new CARB campus. The high-performance campus will feature abundant open and green spaces, as well as nature walks for al fresco breaks and informal meetings alike.
"CARB leads, the world follows," stated AEI principal Dave Sereno. "The context of this testing facility is high energy usage and precision measurements. By accepting the challenge of zero net energy for such a building, CARB sets a standard for the world. It is a privilege for AEI to be a part of this project."