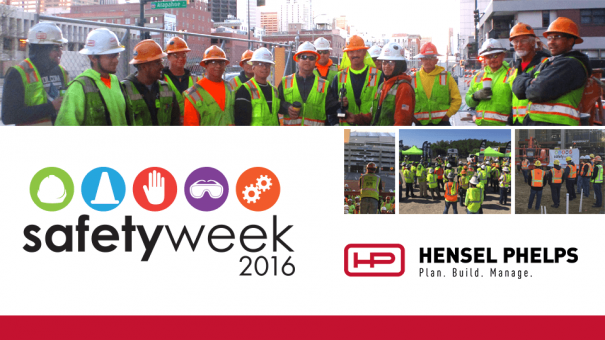 Hensel Phelps is among more than 50 national and global construction firms who have joined forces in support of Safety Week 2016. Safety Week is an annual construction industry-wide education and awareness event. In 2016, Safety Week is being held May 2-6 to align with the National Safety Stand-Down, an Occupational Safety & Health Administration (OSHA) initiative focusing on fall prevention.
Hensel Phelps is conducting safety stand-downs on all projects to discuss site-specific safety issues. Many projects are also conducting special activities in support of OSHA's National Safety Stand-Down to Prevent Falls in Construction. Hensel Phelps is coordinating with owners, subcontractors, trade partners, and other stakeholders to demonstrate their unwavering commitment to safety 365 days a year.
Examples of activities at Hensel Phelps projects include:
Luhrs Marriott (Phoenix, AZ) – A crowd of 275 learned about the purpose of Safety Week and OSHA's National Fall Prevention Stand-Down. Emphasis was placed on making the right decisions and choices even when no one is looking. Specialized training was conducted on fall prevention, ladder safety and personal accountability.
1144 15th Street (Denver, CO) – In front of 76 participants, a Hensel Phelps carpenter received a trophy and certificate for his efforts in putting safety first. He was recognized for wearing fall protection equipment and being tied off properly, which kept him from falling and prevented a potentially serious injury earlier this year.
Sharp Rancho Bernardo (Rancho Bernardo, CA) – After a review of the project's safety statistics, which included zero accidents or doctor's cases in 2016, craft and subcontractors signed a Safety Week banner signifying their continued commitment to safety. They also competed for prizes in a Safety Trivia game.
South Airport Automated People Mover Complex (Orlando, FL) – Nearly 200 participants from Hensel Phelps and its subcontractors kicked off Safety Week with presentations on fall protection, rigging, respiratory protection, hand safety and ladders.
According to Jerry Shupe, Corporate Director of Safety and Health, "Hensel Phelps is excited to be a sponsor of Safety Week 2016. Projects around the country are placing additional emphasis on safety throughout the week, which reminds our people, trade partners and other stakeholders of our commitment that no job is so important that it cannot be performed the safe way."
For 79 years, Hensel Phelps has received recognition from clients and regional agencies for safety performance. Most recently, Hensel Phelps was recognized at a national level by the Associated Builders and Contractors with the 2015 STEP Diamond Award and by the Associated General Contractors of America with the 2013 Construction Safety Excellence Award.